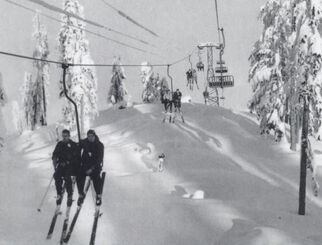 Thunderbird was a chairlift at Snoqualmie Summit (Later Summit West). Built in 1954, it was the second chairlift on the Pass and the first double chair on the Pass. After many years of service, it was removed in 2002.
Chair Location
Edit
The Thunderbird Double started at the West base area, just about where the current Dodge Ridge chair stands. It went up the Thunderbolt run and riders would get off to the left of the Thunderbird Restaurant in between the restaurant and the Wildside top station.
Thunderbird
Name
Thunderbird
Type
Fixed-grip double chairlift
Manufacturer
Heron Engineering
Installed
1954
Defunct
2001
Removed
2002
Known Colors
Red chairs, yellow towers (original) Yellow chairs, black towers (1970s and 1980s), Green chairs, black towers (1990s-removal)
Section heading
Edit
Write the second section of your page here.